Carpet Cleaning in Toronto and York Region
You'll Get…
Cleanest, Fluffiest, Healthiest, Longest Lasting Cleaning You've Ever Seen…
or WE PAY!

Safe, Natural(R) Cleaning


World's Largest & Most Trusted


Why Choose All Star ChemDry
Professional Carpet Cleaning in Toronto
---
Welcome.  I'm Mark, owner of All Star Chem-Dry carpet cleaning here in Toronto, together with my wife Beatrice, we have been providing professional carpet cleaning, upholstery cleaning, and oriental area rug cleaning services to local residents and businesses in Toronto and York Region since 2000. For the past 2+ decades, we have been dedicated to providing our residential and commercial customers the highest standards of quality, courtesy, honesty, and expertise in every aspect of our carpet and upholstery maintenance services.  And now, in our modern world, you can read our many 5-Star reviews to know that you will also get this same expert level of care from us in your home or office 🙂
Since you are here on our website you are likely interested in finding out how our Safe and Natural cleaning processes can help your home.  You are invited to call our office to discuss your needs, get an estimate and schedule your appointment with one of our knowledgeable service technicians!
Your Dependable Carpet Cleaning Professionals in Toronto
Is the furniture in your home looking worn? Are old stains ruining the look of your carpet? Don't worry – All Star ChemDry will have everything looking like new in no time!
Homeowners across Canada love the carpet in their homes. Carpet feels soft on your feet and can be a great compliment to almost any room. Unfortunately, it takes a little more effort to keep things looking good when you have carpeted rooms. Spills, dirt from outside, and general wear and tear can quickly make your carpet less inviting and more of a nuisance.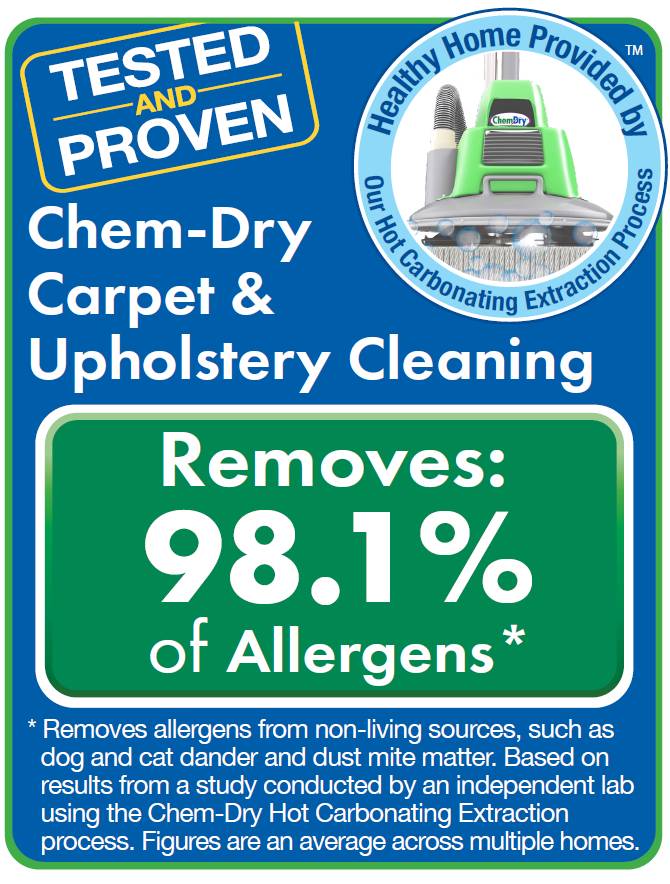 Professional Carpet Cleaning in Toronto…
All Star Chem-Dry carpet cleaning Toronto provides professional carpet, upholstery, Oriental and area rug cleaning services since 2000. We offer our residential and commercial customers the highest standards of quality, courtesy, honesty, and expertise in every aspect of our carpet and upholstery maintenance services.
Toronto Green Upholstery and Rug Cleaning
All Star Carpet Cleaning understands the importance of using the safest, eco-friendly and most effective, natural cleaning products, which we utilise in our Carpet, Upholstery, Oriental Rugs and Commercial Carpet Cleaning packages. Our both residential and commercial clients across Toronto and York Region benefit greatly from Chem Dry's approach and commitment to Green and Clean carpet and upholstery care.
Being a part of Chem-Dry franchise gives us exclusive rights to use a cleaning process called Hot Carbonating Extraction. The secret behind that is "The Natural" a patented formula with microscopic bubbles safely removing dirt from the carpets, leaving them to dry within one to two hours and preventing stains from coming back.



Deep Clean Your Carpets
You can extend the life of your Carpets and Upholstery by using our patented Hot Carbonating Extraction process, which has been granted the Gold Seal of Approval by Carpet and Rug Institute.
You will feel good knowing that our cleaning solution The Natural® is absolutely Green & Clean and Safe for Kids and Pets. And for that it has received the Green Certified recognition as verified by ITC Labs.
Chem-Dry Cleaning Services in Toronto
Chem dry is an alternative to steam cleaning, while still meeting high demands of today's carpet and upholstery industry standards. Customers having their rugs cleaned by our company will find a peace of mind knowing that their homes will be healthier homes as well. Drier, Cleaner, Healthier® is what sets us apart from other Carpet cleaning services in Toronto and York Region.
Our continued growth is achieved mainly through the ever-increasing database of residential and commercial clients who choose to remain our loyal customers while enjoying All Star Chem-Dry experience knowing that we are their Carpet and Upholstery Cleaners.
Qubec Asthmatic Association Recommends Chem-Dry®
"The most efficient system among all others is Chem-Dry System. The distinguishable differences include its deep cleaning ability, its resistance to bacterial proliferation, its lack of sticky residue, the odourless formula and outstanding stain removal."

Toronto #1 Carpet & Upholstery Cleaner since 2000
Your HEALTHY HOME Starts HERE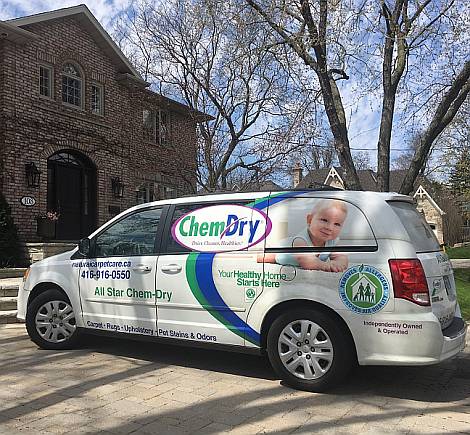 When you choose All Star ChemDry professional carpet cleaners you get a deeper clean, faster-drying carpets and a healthier home for you and your family.  We provide carpet cleaning services for Toronto and surrounding areas but we don't just stop at carpets! We are your whole home and office solution for upholstery cleaning, area rug care and much more.
Our proprietary Hot Carbonating Extraction cleaning process penetrates deep into the fibers, removing an average of 98% of common household allergens from carpets and upholstery. Using 80% less water than typical steam cleaning, with All Star ChemDry your carpets will be dry in just a few hours instead of days, making us the safer and more convenient carpet cleaning choice.
All of this means Chem-Dry cleans for your health like no one else.
Our Healthy Home Services
Carpet Cleaning
We make your carpets like new again without harsh chemicals.
Area Rug Cleaning
Our patented process is the safest and most effective for your fine rugs.
Upholstery Cleaning
Our signature process cleans, refreshes & protects your furniture.
Pet Urine & Odour Removal
Our patented P.U.R.T. process destroys 99.9% of urine odors its applied to.
Commercial Carpet Cleaning
The Chem-Dry system is ideally suited to the commercial and retail environment.
Specialty Services
All Star Chem-Dry will remove most spots and stains with our regular cleaning.
See Why Clients Turn To Us For All Their Carpet Cleaning And Tile Needs.
I am thrilled with the fact that I was able to get a quote right away and then schedule an appointment to have my Oriental Rug cleaned. My rug looks great, and all fears about them ruining it were squashed. It's perfect. Great work guys!
D. Vishnevsky from Toronto
So I breed cats. And as you can expect sometimes that gets kind of smelly. So I called All Star to clean my sofas and my carpets, as I do quarterly. Their method of getting rid of any lingering smells is not only safe but it's pretty fast and really effective. I recommend All Star Chem Dry without any hesitation they are the best!
Deborah Pinney from Toronto
I highly recommend All Star and will use them again. I was home alone when they came for the cleaning and they were gracious enough to help me move my heavy furniture out of the way without any complaints. They even arranged them back when they were through! Thumbs up!
jennifer chtist
I was pretty nervous about bringing in a company to clean my sofa and heirloom rug, but I was reassured that the process of cleaning was completely safe and wouldn't harm the fabrics at all. I'm glad that I listened, because they were right. The agent that they used to clean my rug and upholstery seemed really neat! At the end of the day, I trust All Star hands down to handle this kind of job.
Christopher Berniero
Partner with Us to
Keep Your Home Looking Great
When you hire All Star ChemDry, you'll get nothing less than superior service at a great price. We've got all the surfaces in your home covered, from top to bottom. We can help if you need any of the following services:
We're truly your experts in clean. No matter what the stain, dirt build-up, or wear and tear situation is, you can trust All Star ChemDry to take care of the problem.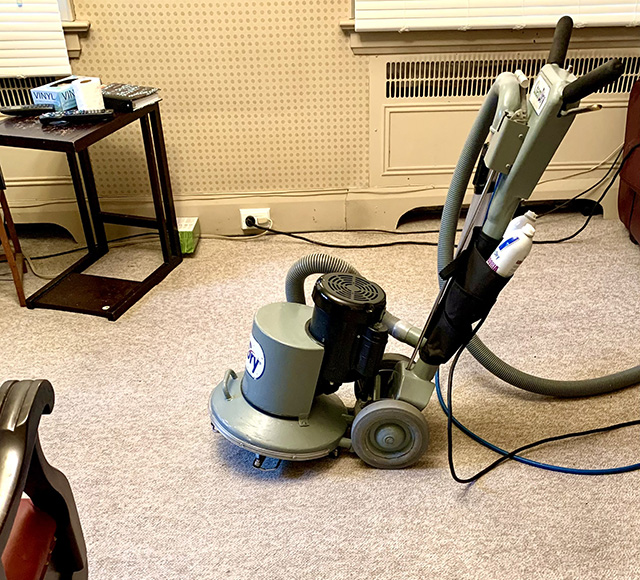 Your Green Certified Toronto
Carpet Cleaning company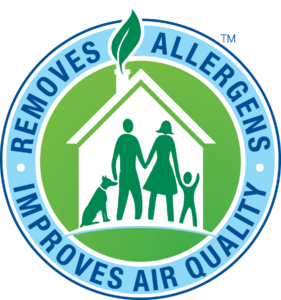 When you have stained carpeting or worn furniture, trust All Star ChemDry, your Toronto carpet cleaning experts since 1993!
Since opening our doors in 1993, we at All Star ChemDry have been dedicated to providing our customers with the very best carpet cleaning solutions. Carpeting is common on Toronto. Not only is it stylish, and can be used to complement any home style, but also it adds to your warmth and comfort, which is essential when the colder weather rolls through. Unfortunately, it's not as easy to clean as other floorings like wood and tile. So if you've ever stained your carpet with wine or food, or have little ones that forgot to remove their boots before coming inside, you know how much of an eyesore it can become.
Luckily, our experts are here to help. We are the most trusted carpet cleaning company in and around Toronto, and for good reason. With long-lasting and effective results, we can help your home look its best, all while offering honest pricing and care.Want to know more about our work? Be sure to visit our reviews page.
Chem-Dry® cleans for your health like no one else. Our proprietary Hot Carbonating Extraction cleaning process penetrates deep into the fibers, removing an average of 98% of common household allergens from carpets and upholstery.
Green-Certified Carpet Cleaning Means A Healthier Home For Your Family
Our green-certified solution, The Natural®, contains no soaps or detergents so it's safe and non-toxic for your family and pets. And, Chem-Dry uses 80% less water than typical steam cleaning so carpets dry in hours instead of days, making it the safer and more convenient carpet cleaning choice.
Chem-Dry is the world's leading carpet and upholstery cleaner with a network of franchises around the world equipped to clean almost any surface in your home or business including carpet, upholstery, leather, tile and grout, and area rugs.
We Keep Things Looking Great, Naturally
Making sure your home looks excellent and keeping your family healthy are our top priorities – this is why we only use green-certified products. We're proud of our unique and natural cleaning solution, aptly named The Natural. Not only does our proprietary solution contain no phosphates or detergents, but it's also guaranteed safe for your kids and pets. 
The next time you need surface cleaning services in your home, don't risk using harsh chemicals. Rest easy and call Chem-Dry for safe and natural deep cleaning.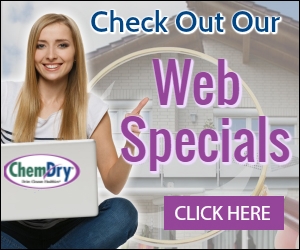 10 Reasons Why You'll Love All Star ChemDry

Safe/Natural Cleaning.

The only one recommended by the Quebec Asthmatic Assoc. for people with allergies/asthma and homes with children & pets.

Carpets stay cleaner, longer.

– We don't use oily soaps and harsh detergents so there are absolutely

NO

soapy, sticky residues left behind.

Carpets are dry in about 1 hour.

– Our patented

Hot Carbonating Extraction

uses up to 90% less moisture than other methods

Exact appointment times.

– No waiting around all day wondering when we will arrive to clean your carpets, upholstery cleaning / furniture cleaning and area rugs, we'll give you an exact arrival window.

Honest pricing- No gimmicks.

– No Sales Gimmicks, No hidden costs. We charge by your exact square footage to be cleaned… and we provide you with the exact price

BEFORE WE BEGIN

We don't cut corners…We clean them.

– We're so dedicated to providing you with the absolutely best cleaning, my technicians have to wear knee-pads to save their pants! Carpet Cleaning Testimonials

World Class Staff.

– My polite, well groomed, highly trained technicians will give you the most thorough cleaning ever. Carpet Cleaning Testimonials

We Answer The Phone LIVE.

– No waiting all day for someone to call you back. Call or contact us.

One Call Service.

– Carpets, Upholstery, Oriental Rugs, Protectants, Cleaning, Antique fabrics, Pet Odours, Leather & Vinyl, RV's and Auto Interiors, Advanced Stain Removal …and much more!

A customer for life!

– Once you become our client we'll work very hard to impress you each and every time so you'll keep coming back again and again and tell your friends about us. We offer our award winning Carpet Cleaning, Area Rug Cleaning, Upholstery Cleaning, Pet Urine & Odour Removal, Commercial Carpet Cleaning and other cleaning service in Toronto, Markham, Vaughan and Richmond Hill and surrounding areas!.
Don't Settle for Less
All Star ChemDry has been the number one choice in Canadian households for the past two decades. Your satisfaction is our goal, and we ensure nothing less than a superior and healthy clean that you can count on. Here's what you can expect when you hire us: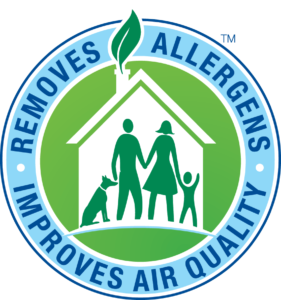 Competitive Pricing

– We work hard to ensure we're a cost-effective choice.

Top Quality Clean

– Our Hot Carbonating Extraction process removes 98% of allergens on average that hide out in your carpets and upholstery.

Pet and Family-Friendly Products

– Not only is our main cleaning solution, The Natural, safe for everyone, we also have a whole catalogue of cleaning products to choose from.
Less Water Used

– Less water means less drying time and fewer bacteria build-up in your upholstery and carpets. Our process uses 80% less water than typical steam cleaning processes, leaving your home dry and clean in hours, not days.

Excellent Customer Service

– Our staff, from phone support to technicians, is trained and ready to give you exceptional and knowledgeable service. Your satisfaction is our top priority.
When you need an exceptional and long-lasting clean for your carpets or other surfaces, call All Star ChemDry at 416-916-0550 – we're the right choice in clean.
There When You Need Us Most
Whether it's your entire home's carpeting, just an area rug, or even your mattress, getting expert cleaning is the best way to have a healthier home. At All Star ChemDry, we are your carpet cleaning experts. With over two decade's worth of experience, your healthy home starts with a call to our staff!
Don't let stained carpeting or upholstery become an eyesore in your home. Call All Star ChemDry at 416-916-0550. We're your Healthy Home Authority!
Our 3 RISK-FREE Guarantees For You
Nothing is more important than your complete and total satisfaction.
You Get Our Iron-Clad, Risk-Free, Money-Back Guarantee
The most thorough cleaning you have ever experienced ...or WE PAY!