First Choice
Carpet and Rug Cleaning
in Richmond Hill Ontario
Offering Peace of Mind Through a Clean and Healthy Home with All Star Chem-Dry
Richmond Hill, the "Rose Capital of Canada" has a rich history as it was once home to large greenhouse operations in the early 1900s. Village council adopted this motto during that time and had elements from William Ashford Wright's artwork integrated into their crest, such as roses or coats-of-arms with roses on them!. All Star Chem-Dry is proud to serve a community that is so friendly and community-oriented.
It's time for your home to be cleaned! We are excited and thrilled that you have chosen All Star Chem-Dry, where our experienced technicians will make sure every surface in sight gets their thorough attention. Don't let dirt and grime build up on any of those dirty carpets or cushions – call us today so we can come out ASAP with a solution tailored just for YOU!"
Our innovative carpet cleaning process is trusted for being the flagship solution to Green and sustainable carpet cleaning worldwide.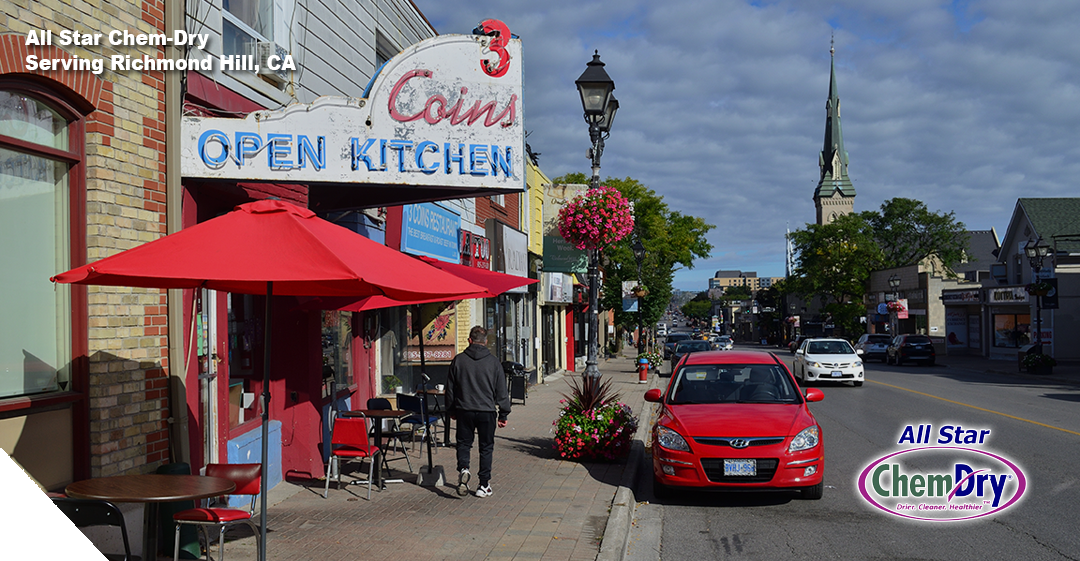 Our mission has always been to ensure that we protect our customers, communities and the environment while still offering this unmatched clean that can't be found anywhere else. Unlike steam and shampoo methods, Chem-Dry virtually eliminates the worry of over-wetting, rapid re-soiling, toxicity, shrinkage, or the inconvenience of long drying times. This method also eliminates sticky soaps and detergents that attract more bacteria over time to the carpets, making them dirtier faster.
A World-Class Area Rug Cleaning with All Star Chem-Dry
Whether you are looking to clean your residential area rugs or commercial business has runners and other carpeted areas that need a good cleaning, All Star Chem-Dry is here.
Area Rugs can brighten any room they're placed in with their colorful design as well as provide extra protection for floors from dirt build up due them being an ideal place where high traffic goes without shoes most times! However area rugs may become worn down quickly if not cared after properly by owners who use often; our technician will handle all types of soiling on every type rug.
At Chem-Dry, we provide Area Rug service dedicated to cleaning your valuable area rugs with a deeper and more thorough cleaning of your area rugs than other methods – but in a gentle manner to ensure that no damage comes to them as we work to provide great cleaning with optimal care.
Our area rug cleaning service in Richmond Hill includes:
Assess your rugs in your home or office
Ensuring that the rug can be cleaned without damaging it,
Clean and protect the rug with "The Natural®" and "PowerGuard®."
We clean the rug fringes individually by hand.
Spot cleaning stains that weren't removed in the initial cleaning
Hand brushing of the rug using specialized area rug brushes; and
Leaving no Fibre Left Uncleaned With our Unmatched Upholstery Cleaning
Just like with your carpets, if you wait too long to get your upholstery cleaned it can lead to a buildup of body oils and soils that create permanent staining. Professional, thorough cleaning by us can remove the tough stains and ensure that your upholstery stays healthy all year round.
Our expert technicians are trained to handle the most difficult fabrics, including;
Haitian Cotton,
Silk,
Wool,
Velvet,
and many other materials,
We are also prepared to tackle white and off-white fabrics that most services refuse to touch. All Star Chem-Dry is proud to handle just about any type of material there is, including leather & vinyl. All Star Chem-Dry has mastered the techniques that can clean even the most delicate fabrics through our in-depth training.
Leather furniture can be a great addition to any room, but leather is known to be prone to cracking, drying out, and becoming faded or scratched over time. Chem-Dry offers a range of leather repair services along with our cleaning services to get your leather looking like new again.
We Can't Wait to Introduce you to our Industry-Leading Clean; Call us Today!
When it comes to keeping your home clean, All Star Chem-Dry has you covered. We offer a wide range of services for the entire family including Carpet Cleaning, Area Rug Cleaning and more which can help make all areas in one's house healthier than ever before!
Don't wait too long to have your home taken care of by the professionals! Call us today for booking, estimates or more information on any of our services at (416) 916-0550
Our Healthy Home Services
Carpet Cleaning
We make your carpets like new again without harsh chemicals.
Area Rug Cleaning
Our patented process is the safest and most effective for your fine rugs.
Upholstery Cleaning
Our signature process cleans, refreshes & protects your furniture.
Pet Urine & Odour Removal
Our patented P.U.R.T. process destroys 99.9% of urine odors its applied to.
Commercial Carpet Cleaning
The Chem-Dry system is ideally suited to the commercial and retail environment.
Specialty Services
All Star Chem-Dry will remove most spots and stains with our regular cleaning.